INFORMATION
CHAPTERS
TRANSCRIPT
SHARE
FILES
PLAYLIST
Building Materials Insights
A Podcast on Digitization, Strategies and Innovation
​ Macro-economic influences, technological discoveries, climate change, and growing pressure on circularity are some of the main global challenges that producers of building materials face today. This podcast explores how the building materials industry is not only reacting to them, but also staying ahead of the game by adapting its strategy, growing the level of digitization, and innovating in different fields. Tune in to listen to the points of view of industry players.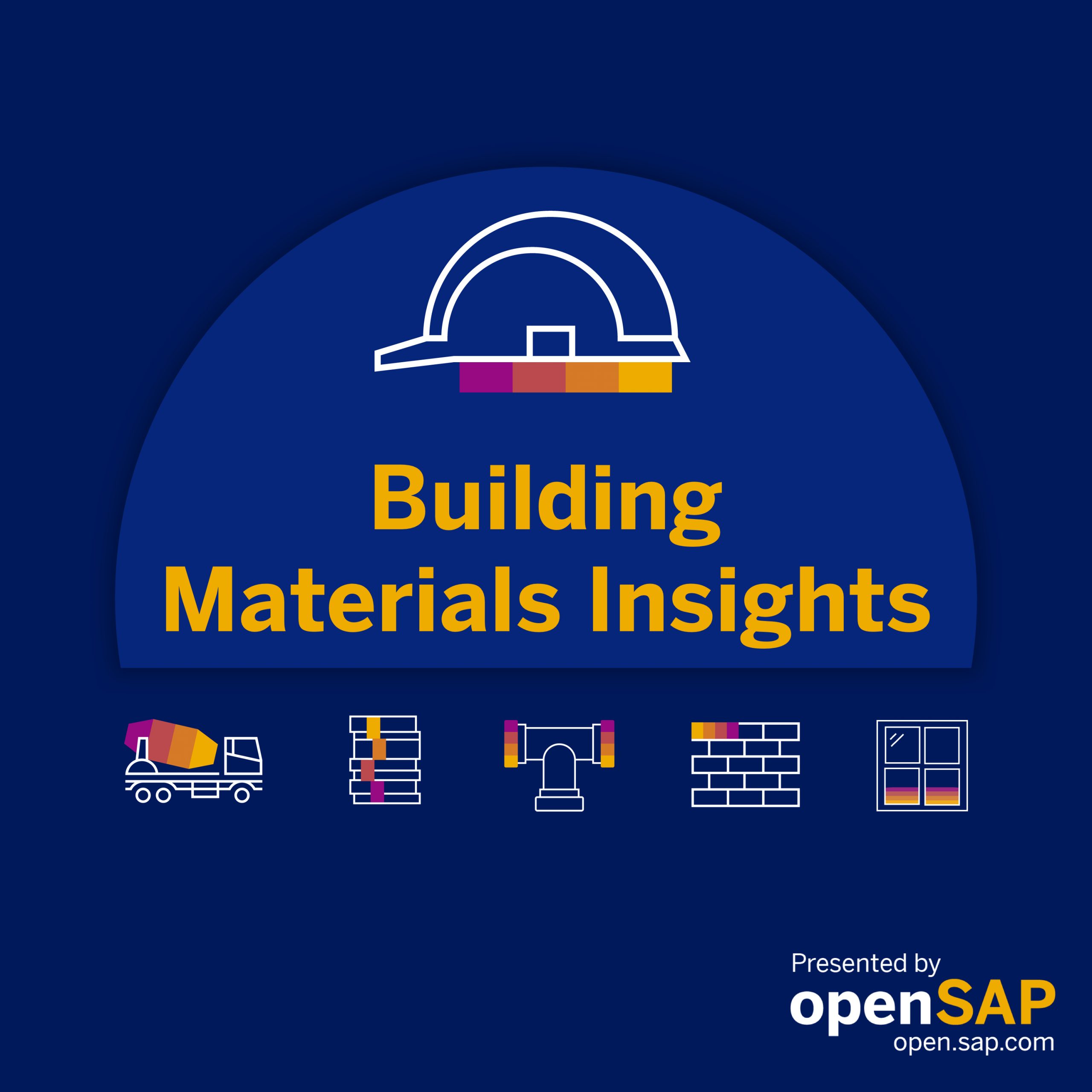 Episode 19: The C in CEMEX doesn't only stand for Cement and Concrete - but also for CSR
Mario Gonzalez, Social Impact & Shared Value Advisor at CEMEX, takes us into what CSR means for CEMEX.
Published: 6. October 2021
Duration: 0:33:20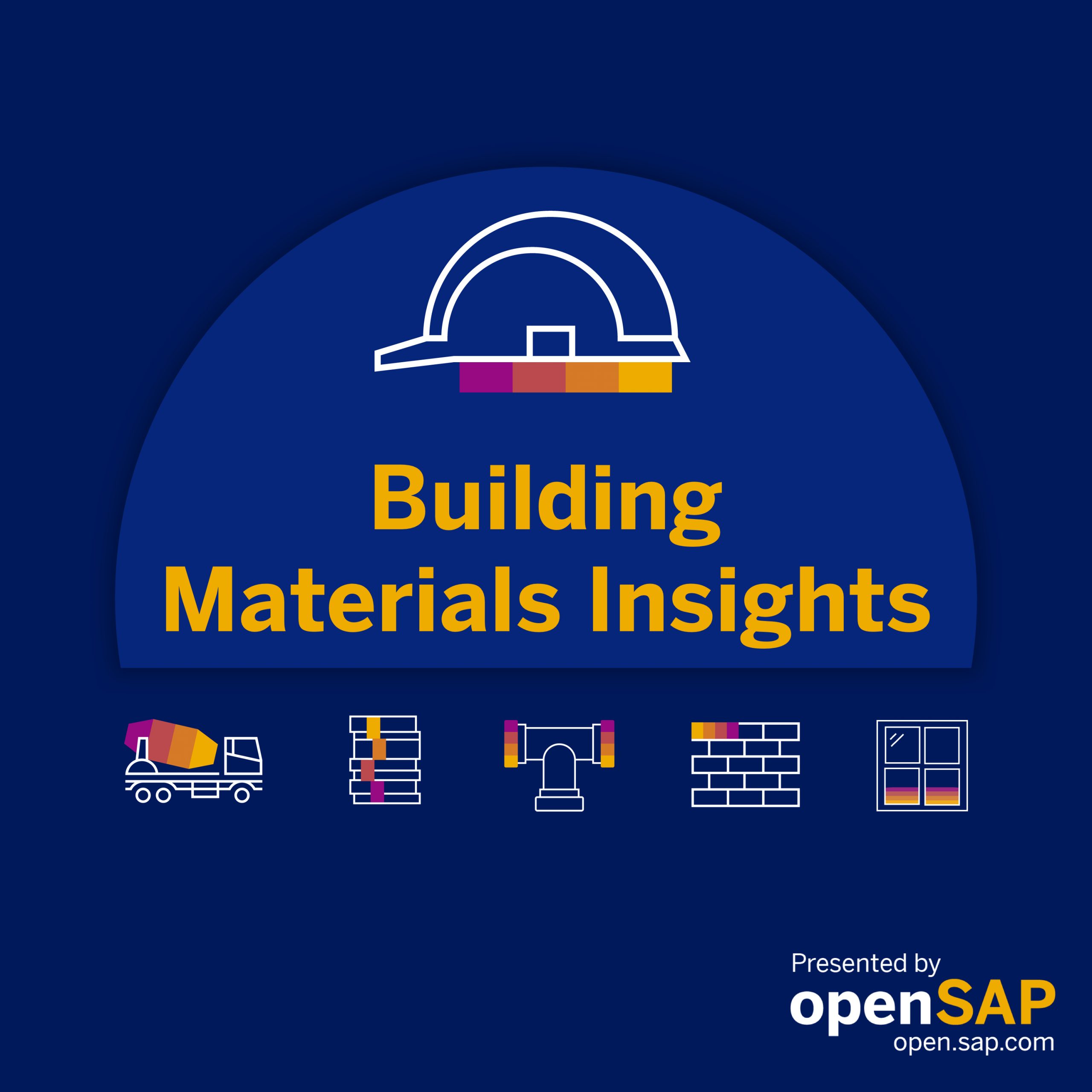 Episode 18: Why Building Materials manufacturers shouldn't wait for BIM to happen (but make it happen themselves)
Thomas Kirmayr, General Manager Fraunhofer Allianz Bau, takes us to a pragmatic approach how to tackle BIM.
Published: 15. September 2021
Duration: 0:26:22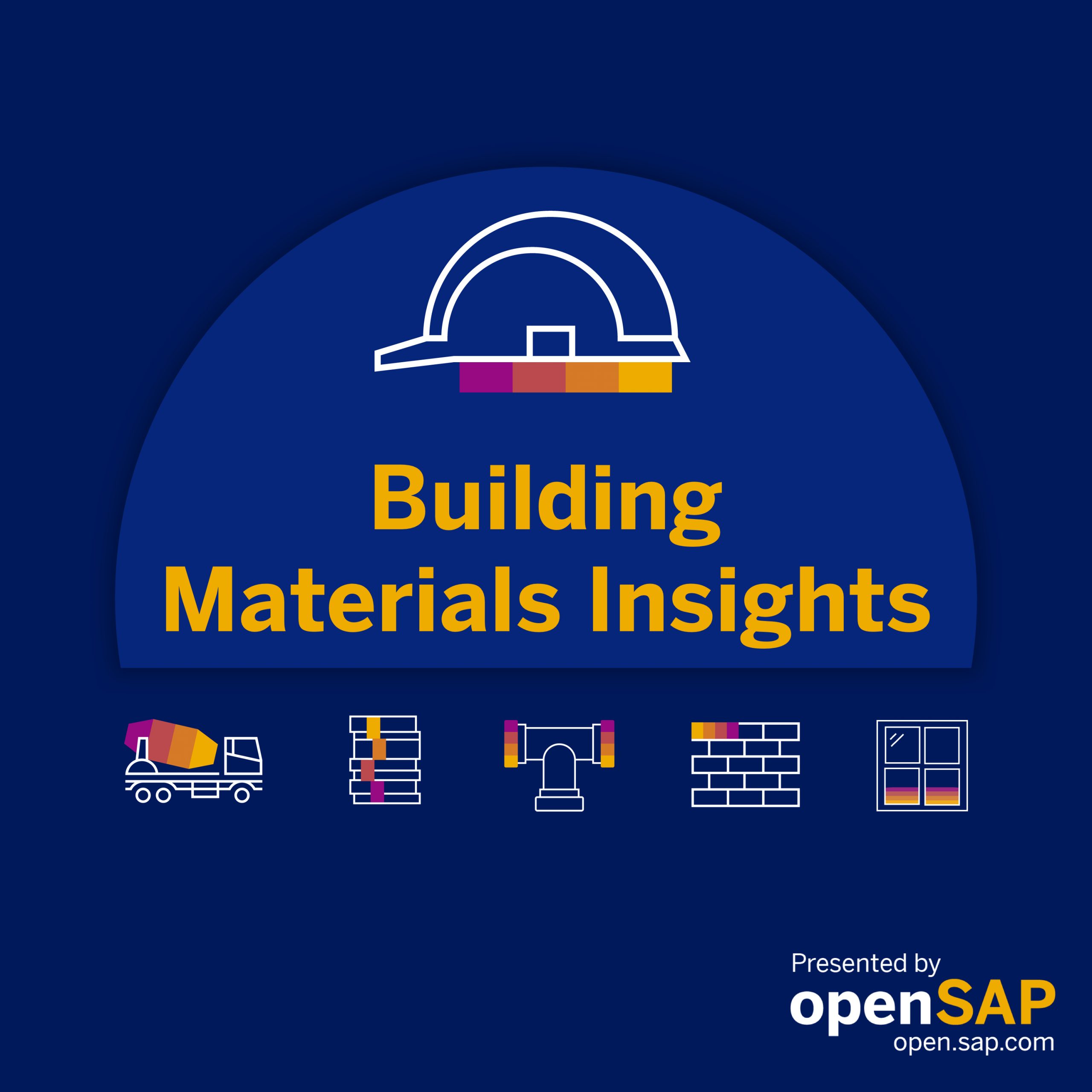 Episode 17: Dormakaba is opening doors (even more smoothly)
​Alexander Bradfisch, Senior Vice President at Dormakaba shares his experience on digitalizing Dormakaba's key product - a door.
Published: 21. July 2021
Duration: 0:25:21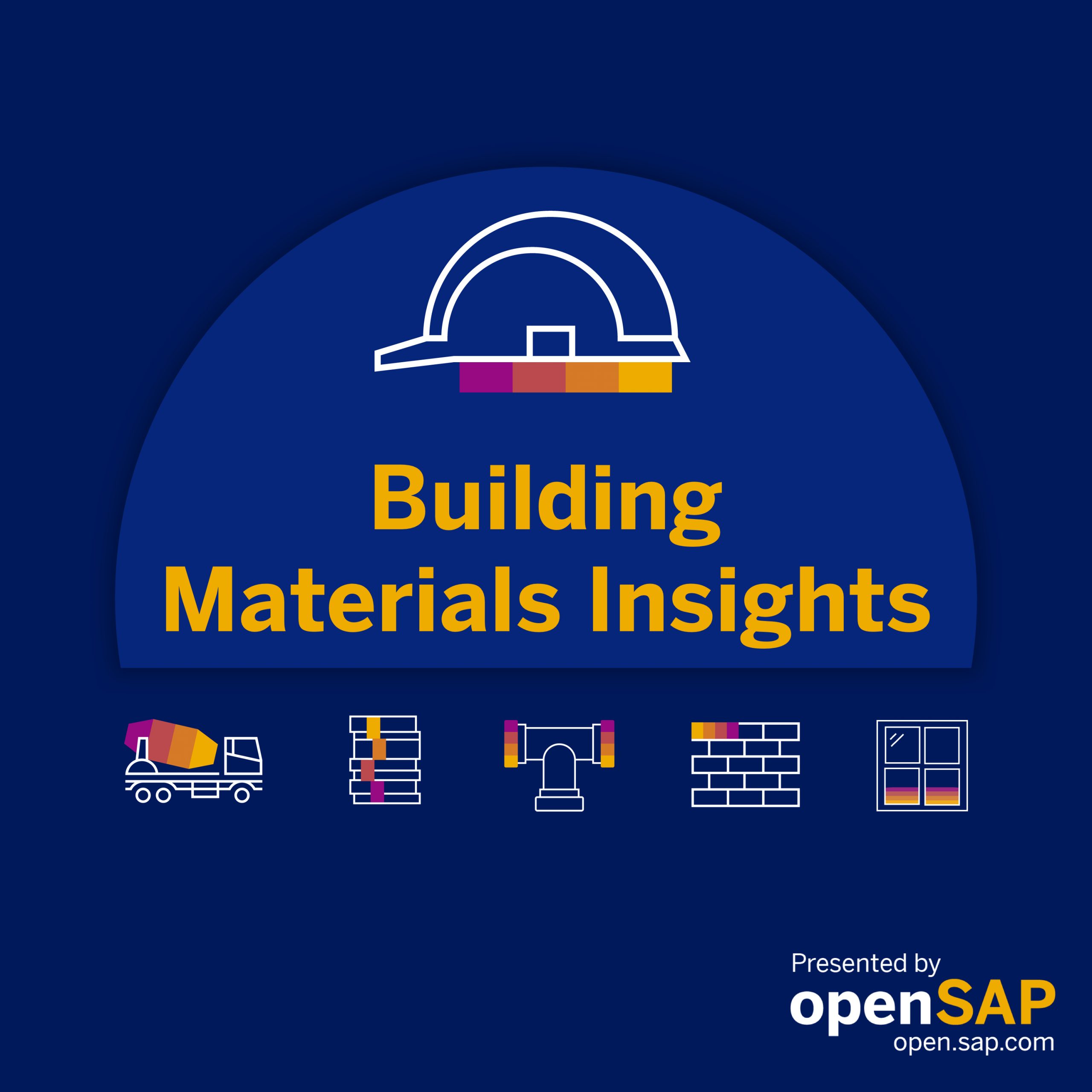 Episode 16: How Volker Thome and Fraunhofer are shaping the future of building materials recycling
Dr. Volker Thome, Head of Department 'Inorganic materials and recycling' at Fraunhofer IBP works on the real recycling of concrete - not just a crushing of demolition waste which rather means 'downcycling'.
Published: 7. July 2021
Duration: 0:26:05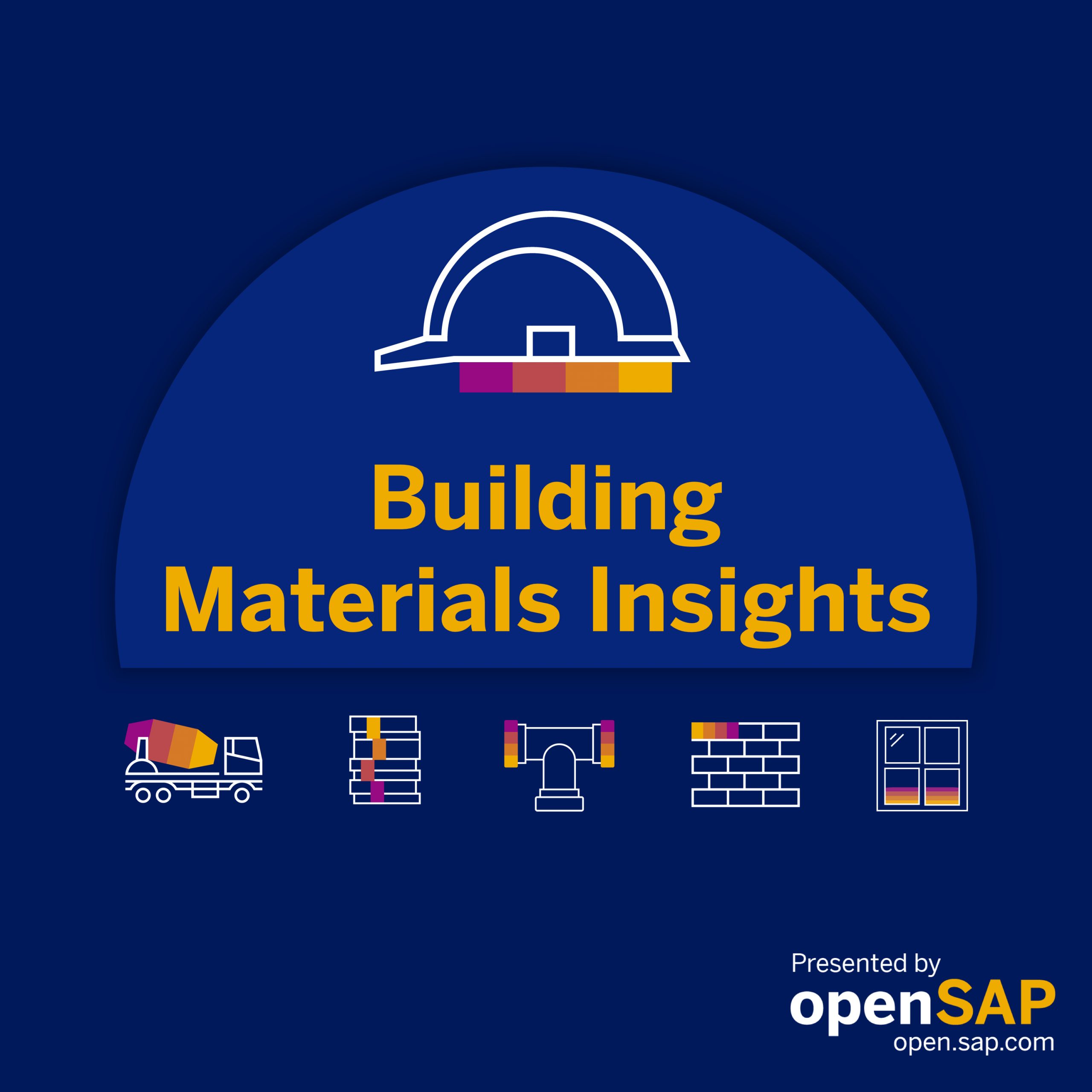 Episode 15: How communication is changing along the supply chain - a chat with Axians
Jens Büschl and Marc Graner (Axians) are sharing their observations on changing communication in the supply chain in Building Materials companies.
Published: 23. June 2021
Duration: 0:28:43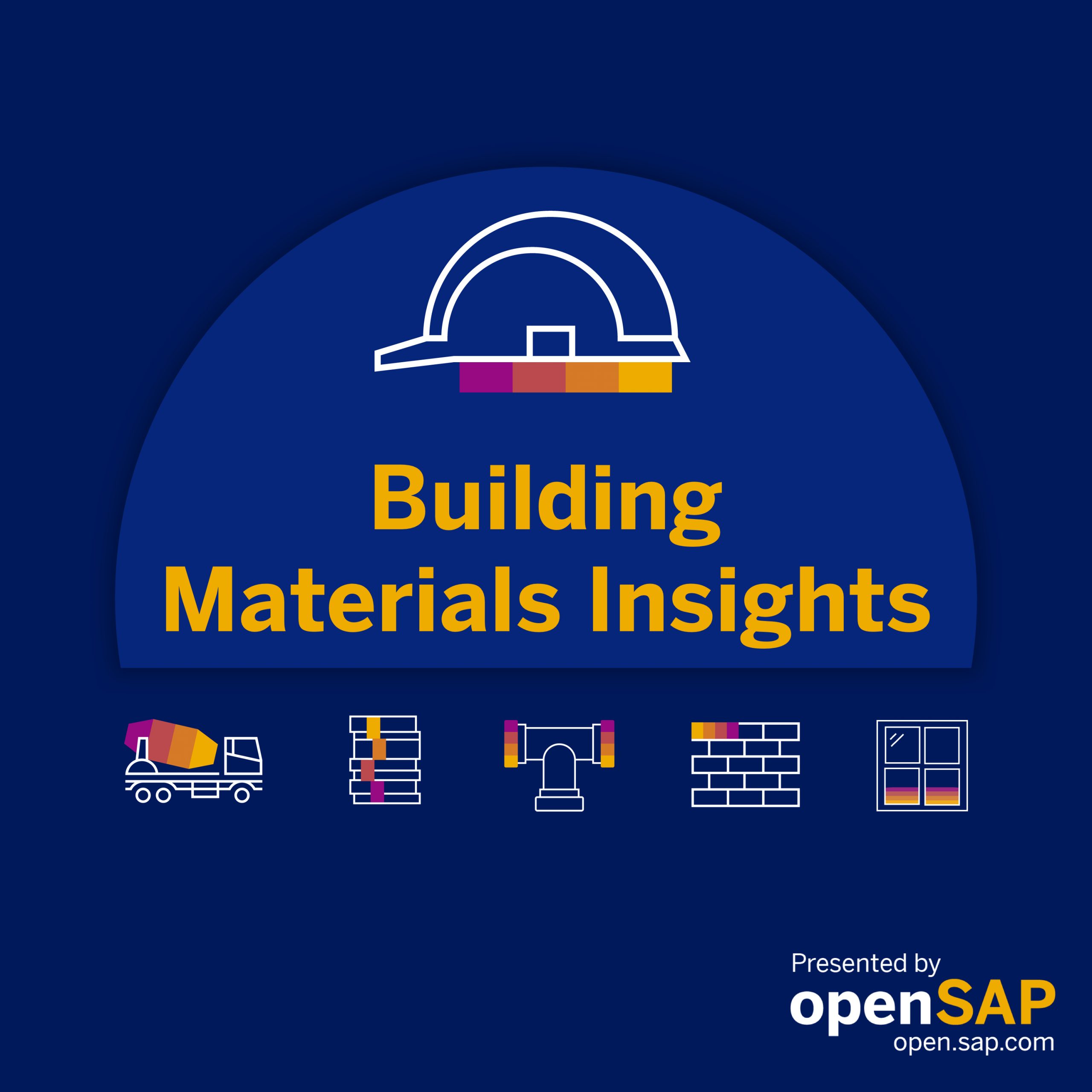 Episode 14: Why Chris can't paint his deck - a view on North American lumber market
In this episode, Christopher Glander, Industry Value Advisor (SAP Americas) takes a look on the North American construction wood market, facing a steep price increase since 2020.
Published: 9. June 2021
Duration: 0:27:45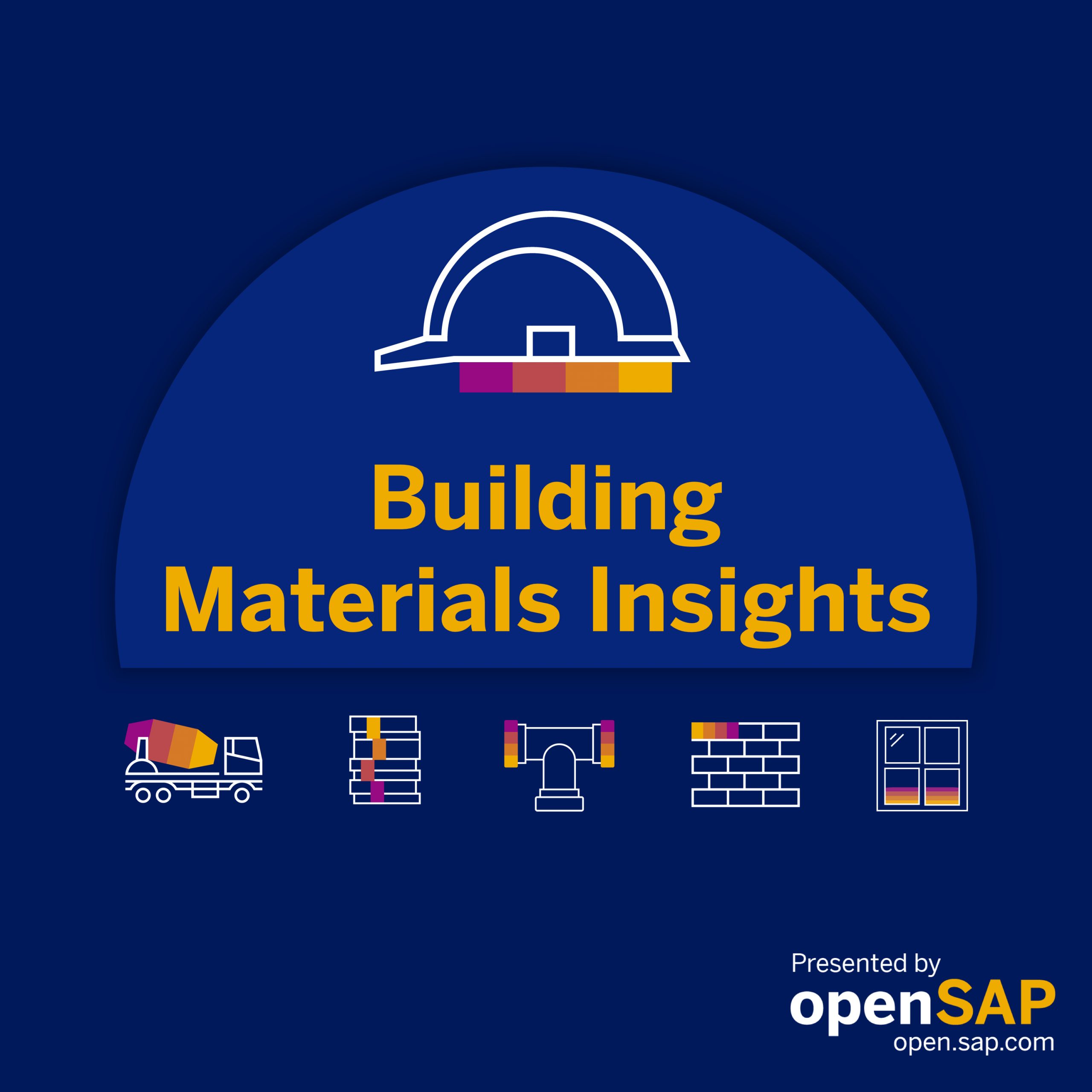 Episode 13: Why should building materials producers care about digitization?
Jerry Lewis, Executive Partner IBM shares his ideas on the need for digital transformation in building materials industry.
Published: 12. May 2021
Duration: 0:29:50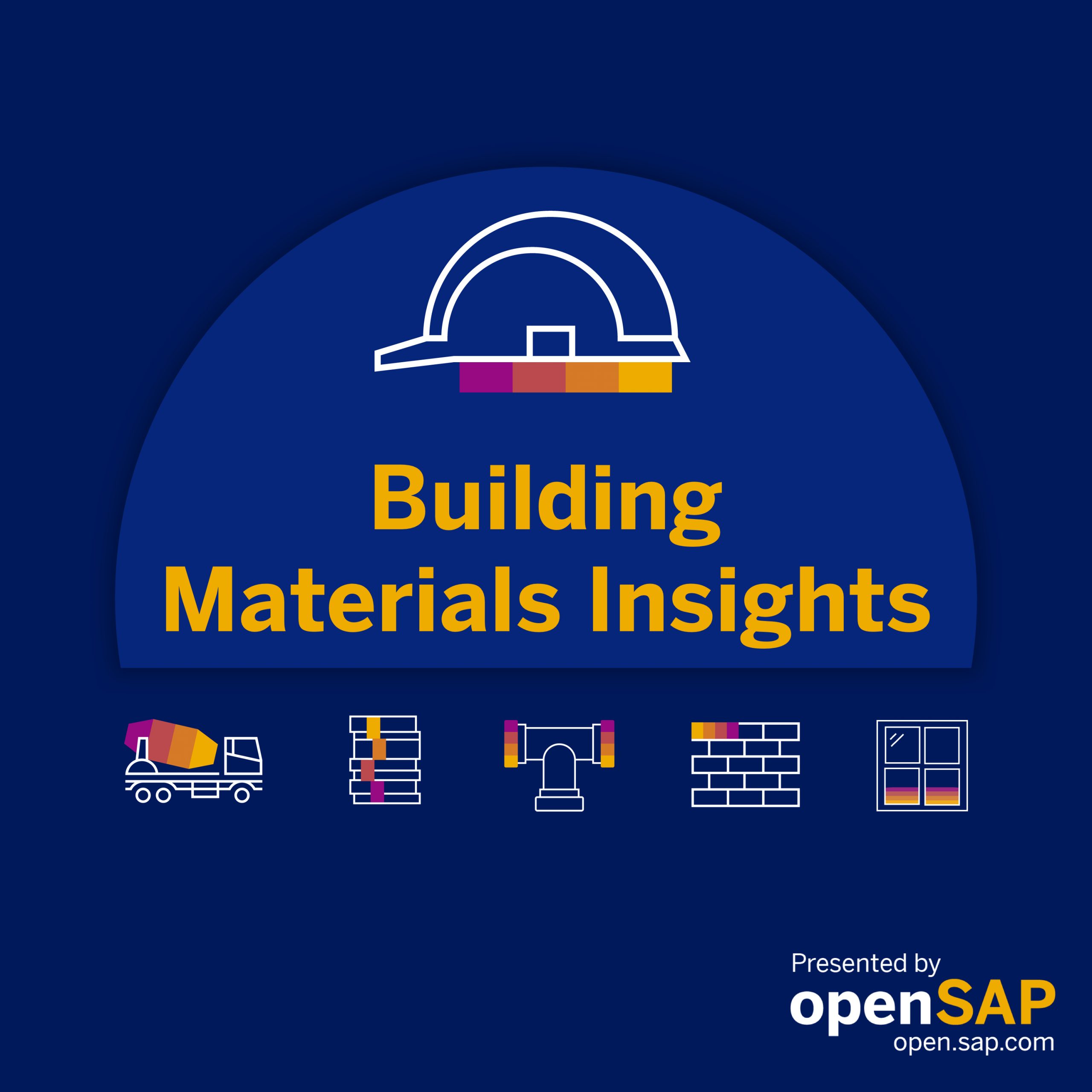 Episode 12: New Ways and the path to Modular Construction
Cristian Montes and Ronaldo Passeri are sharing insights on how Etex is developing modular construction with New Ways.
Published: 28. April 2021
Duration: 0:28:04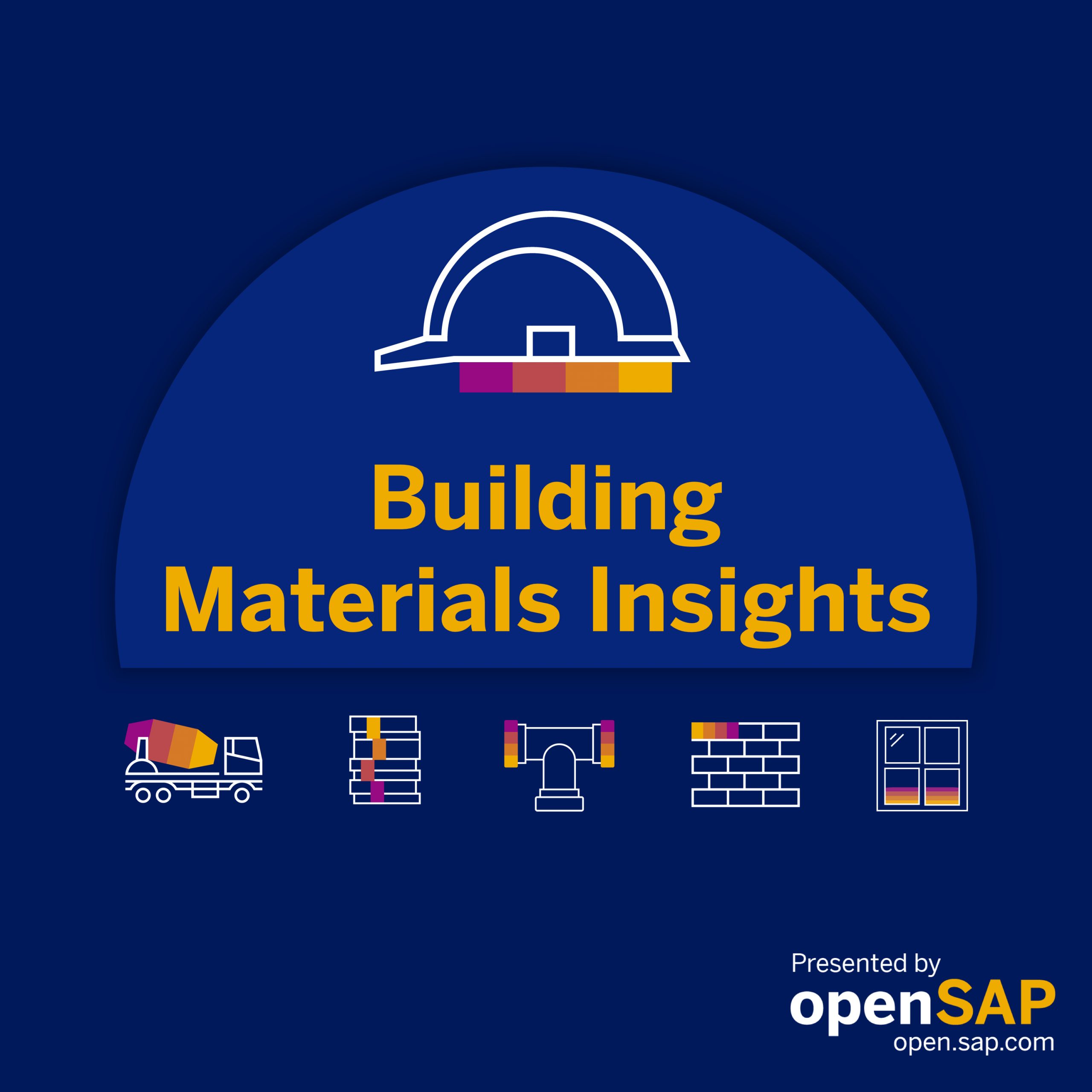 Episode 11: Changing customer behavior and the impact on Egger Holzwerkstoffe
In a discussion with Moritz Steinruck (Head of Product Management Building Products) from Egger Holzwerkstoffe, we are taking a look into the changes in customer behavior and how Egger is responding.
Published: 15. April 2021
Duration: 0:23:51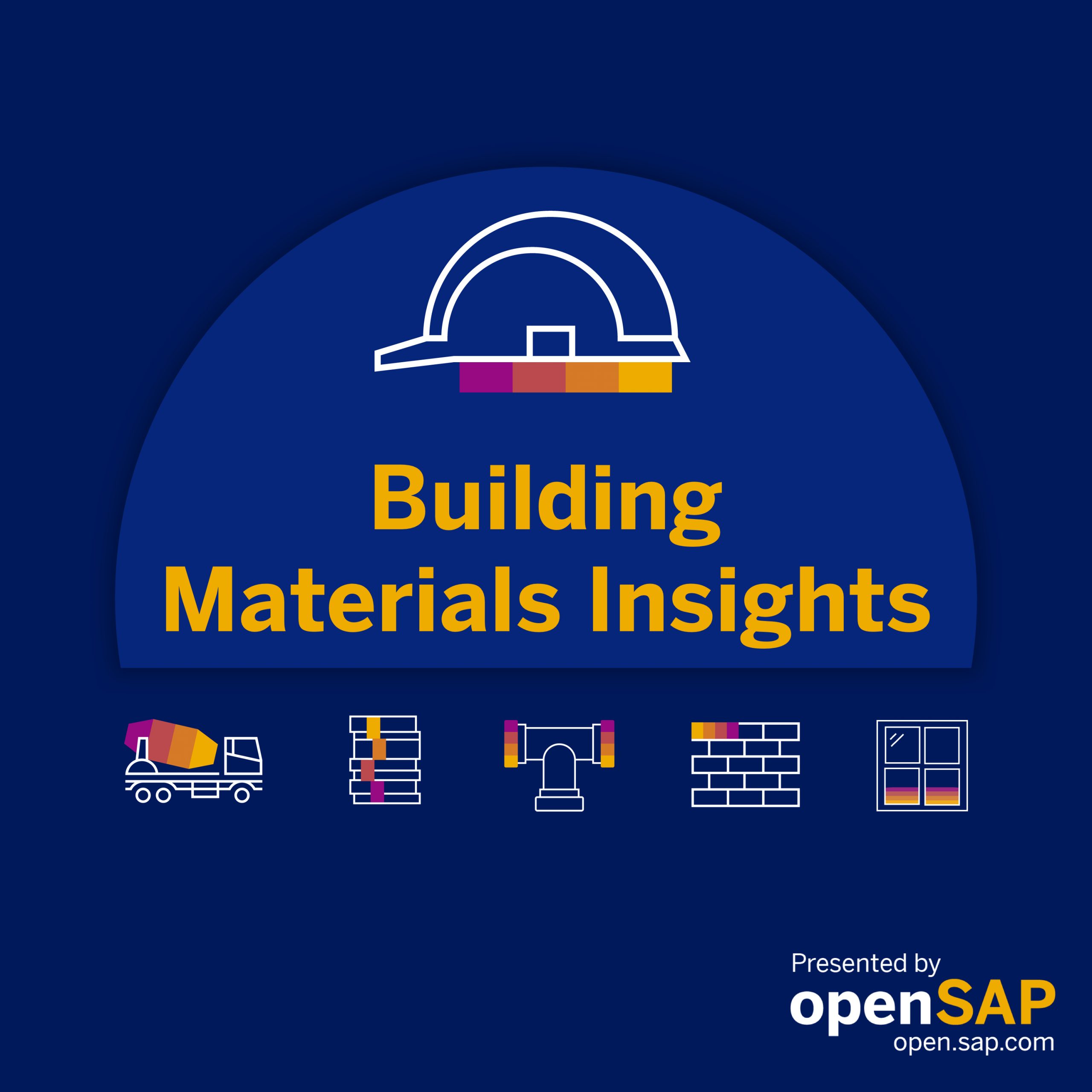 Episode 10: How Building Materials manufacturers are impacted by trends in the construction industry
Matthias Bohner, Director Construction and Real Estate SAP SE, shares insights into trends of the construction industry that influence the supply chain of construction.
Published: 31. March 2021
Duration: 0:28:02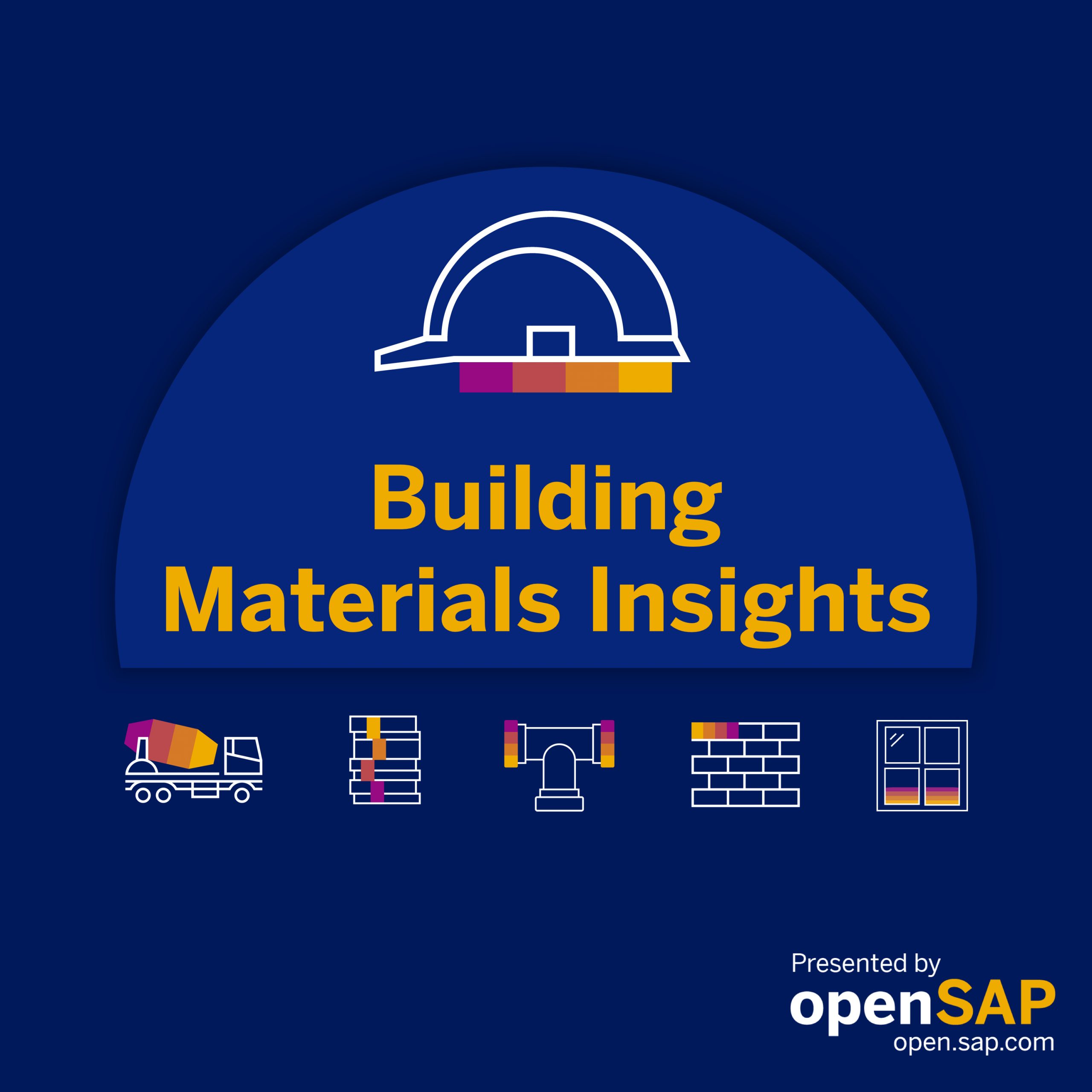 Episode 9: Software is everywhere - also in Building Materials?
In this discussion with Isabel Reingruber (SAP, Solution Manager for HighTech Industry) we are looking into the opportunities and risks of 'Software is everywhere' (SiE) in the manufacturing industry.
Published: 17. March 2021
Duration: 0:16:05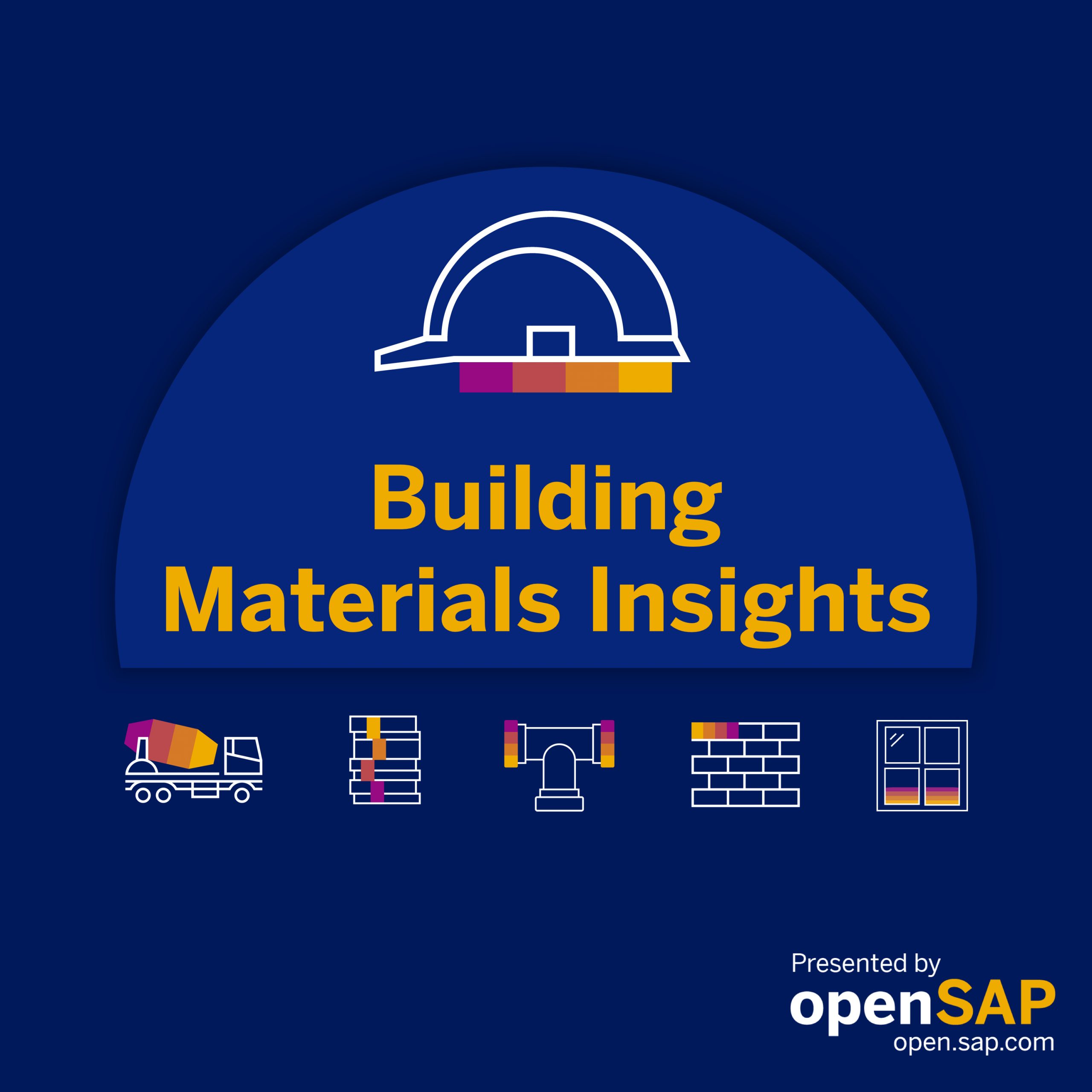 Episode 8: hansgrohe - the path to digital sanitary ware
Markus Armbruster (Vice President IT & Digital @ hansgrohe) shares his experiences on how to go digital in his company.
Published: 3. March 2021
Duration: 0:27:59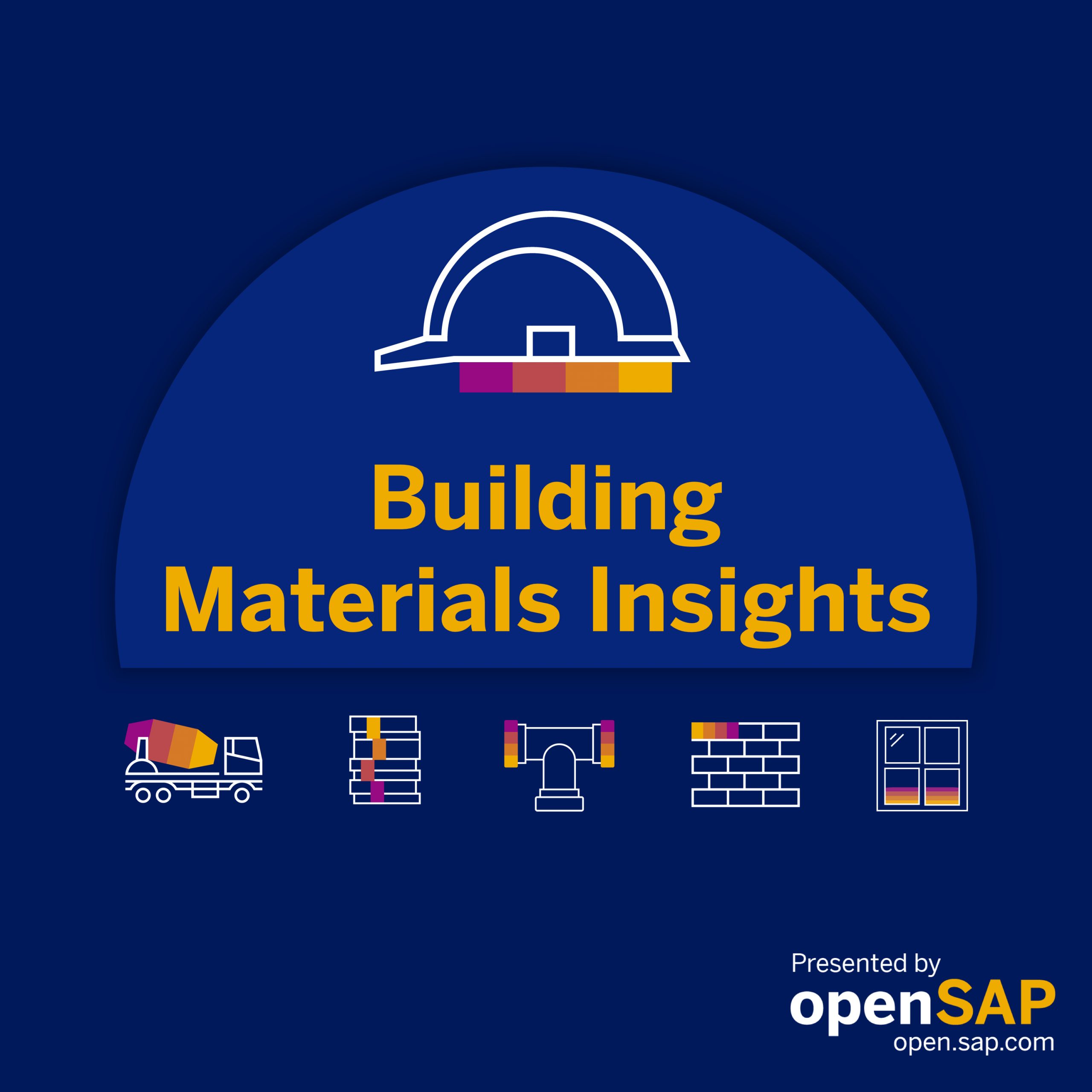 Episode 7: Industry 4.now and the relevance for Building Materials industry
What can Industry 4.now do for the Building Materials industry? Where has it already proven its value?
Published: 17. February 2021
Duration: 0:25:25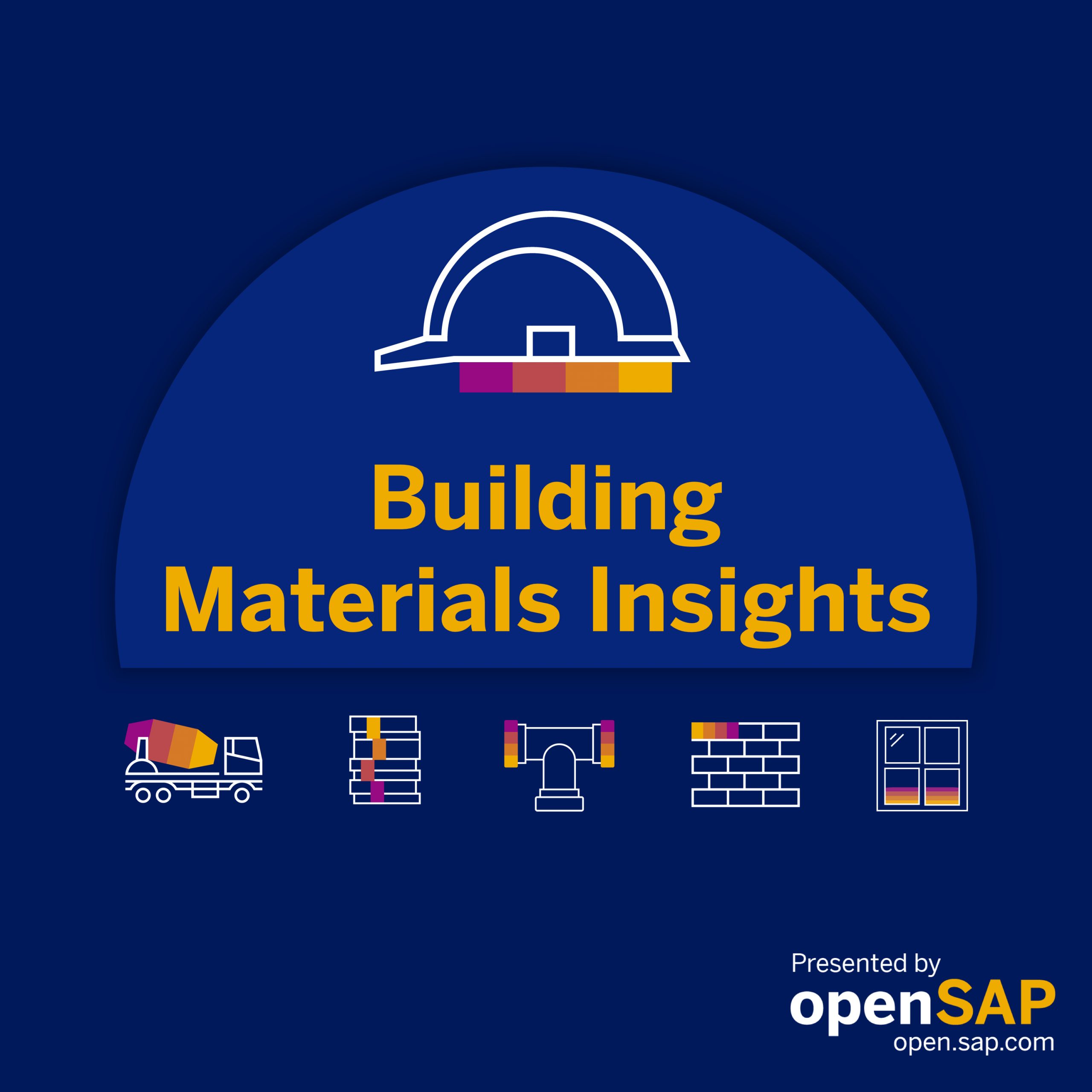 Episode 6: A view on the Building Materials Industry in China
Xu Meng (SAP, Industry Value Advisor for China) gives insights into current trends for the chinese building materials market.
Published: 3. February 2021
Duration: 0:22:11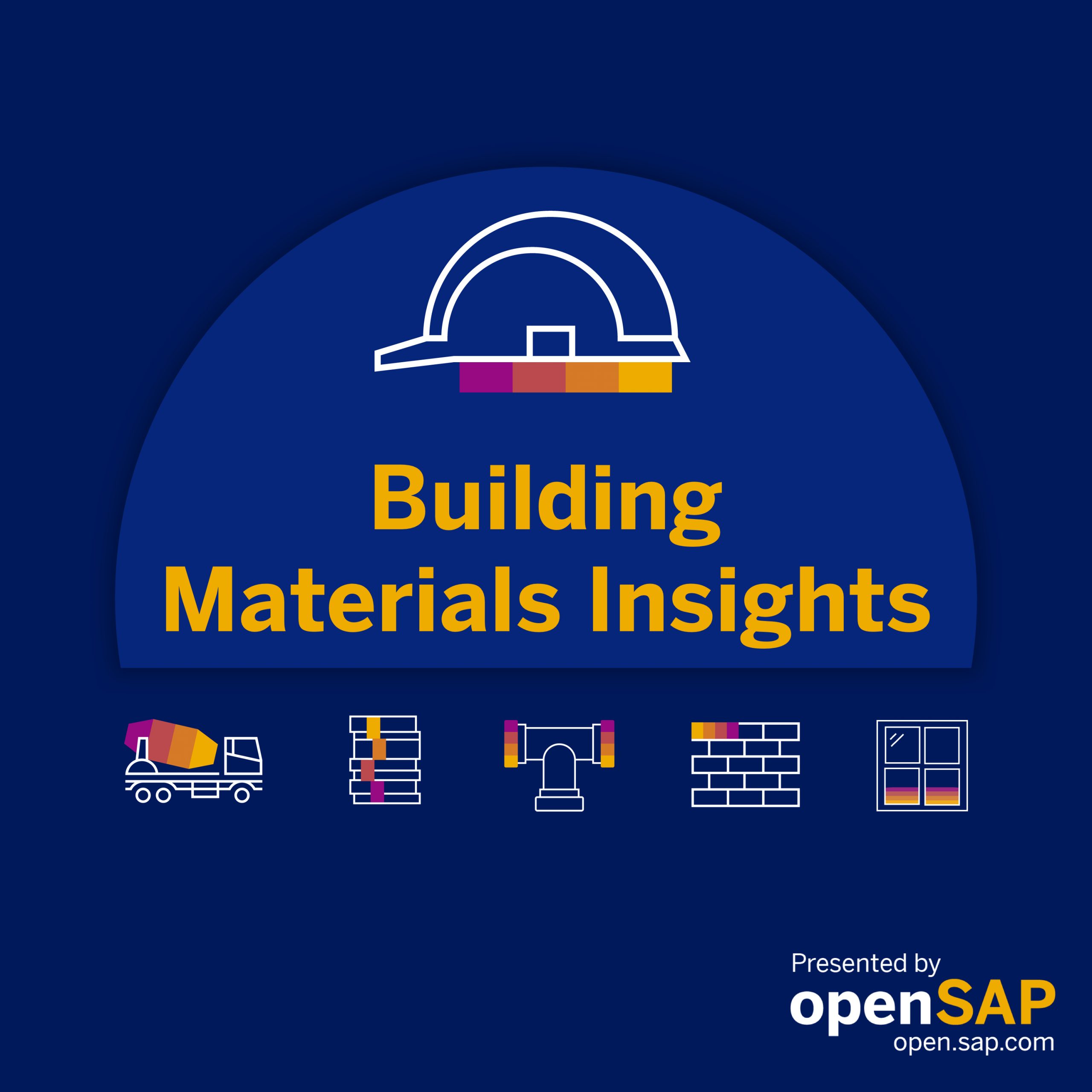 Episode 5: Circular Economy @ LafargeHolcim
Eva Carranza (Circular Economy Lead at LafargeHolcim) describes the efforts taken at LafargeHolcim to implement Circular Economy at LafargeHolcim.
Published: 20. January 2021
Duration: 0:25:15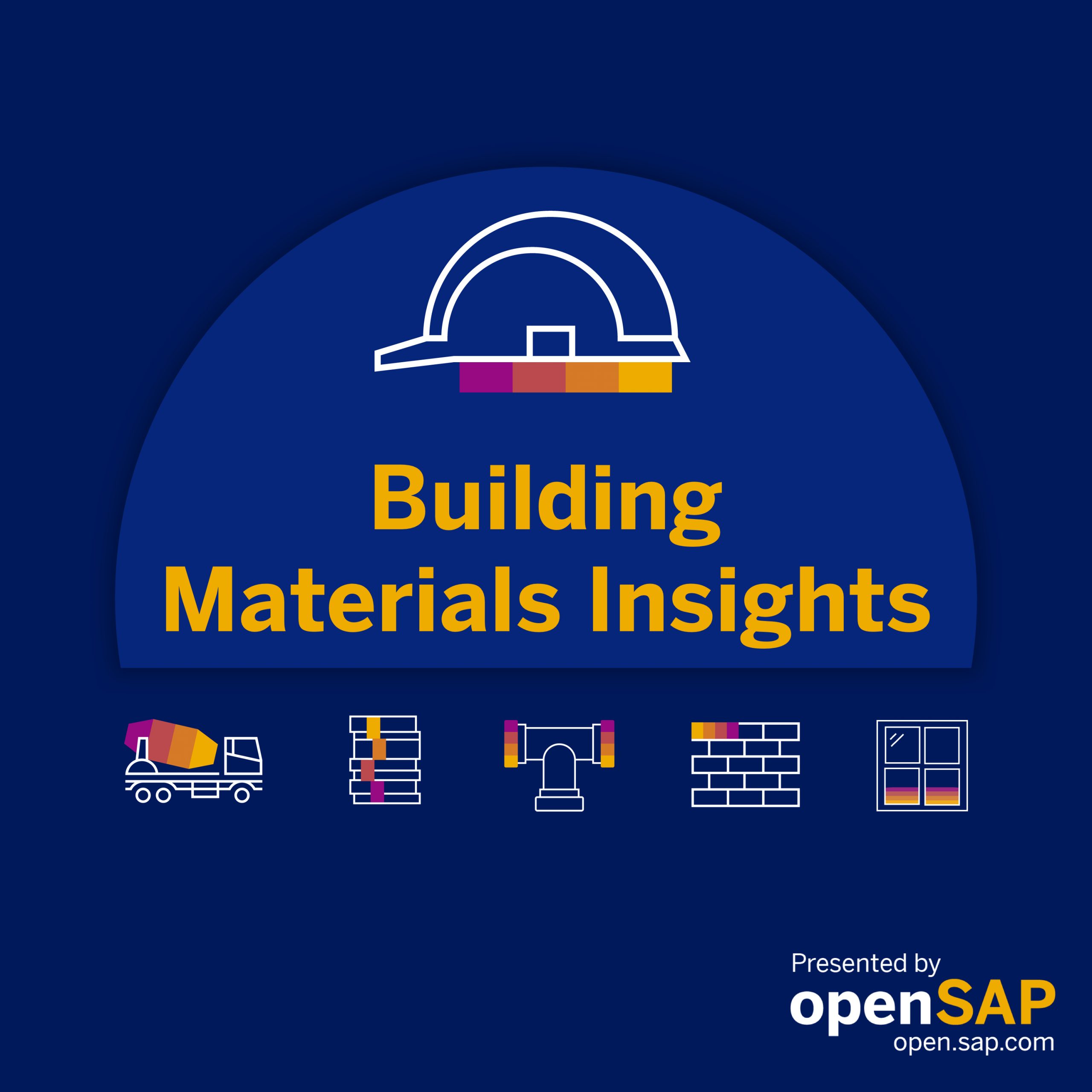 Episode 4: Building Information Modelling(BIM) and the role for Construction and Building Materials Industry
Johnny Clemmons (Lead of Construction Industry SAP) and Folkert Haag (Co-Lead of Building Materials Industry SAP) talk about the role BIM plays for the industry.
Published: 16. December 2020
Duration: 0:24:44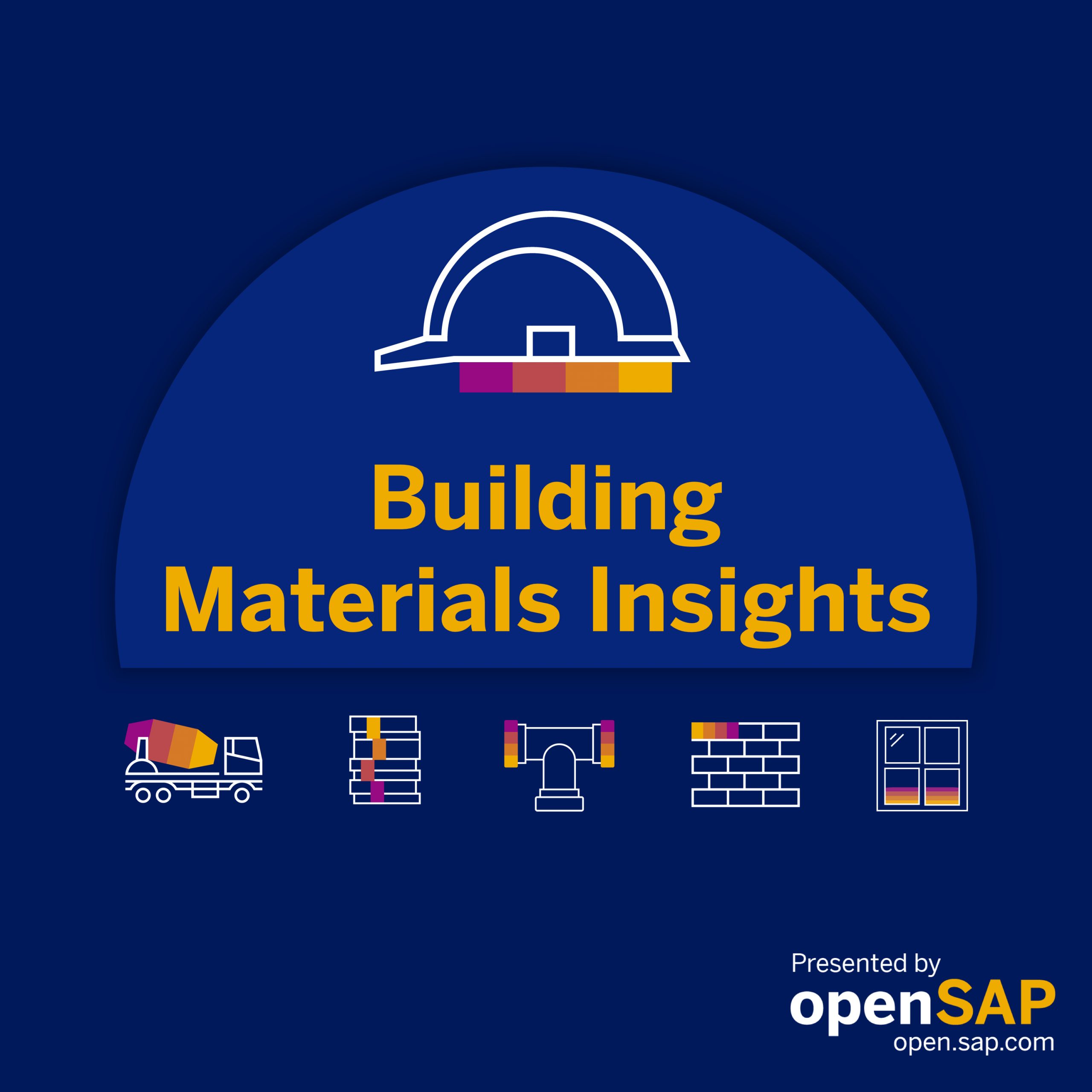 Episode 3: Building Materials Industry in Mexico - A shift in customer experience & low-touch-economy
Oziel Gonzales, Industry Value Advisor at SAP Mexico shares his insights into trends in the Building Materials.
Published: 2. December 2020
Duration: 0:21:59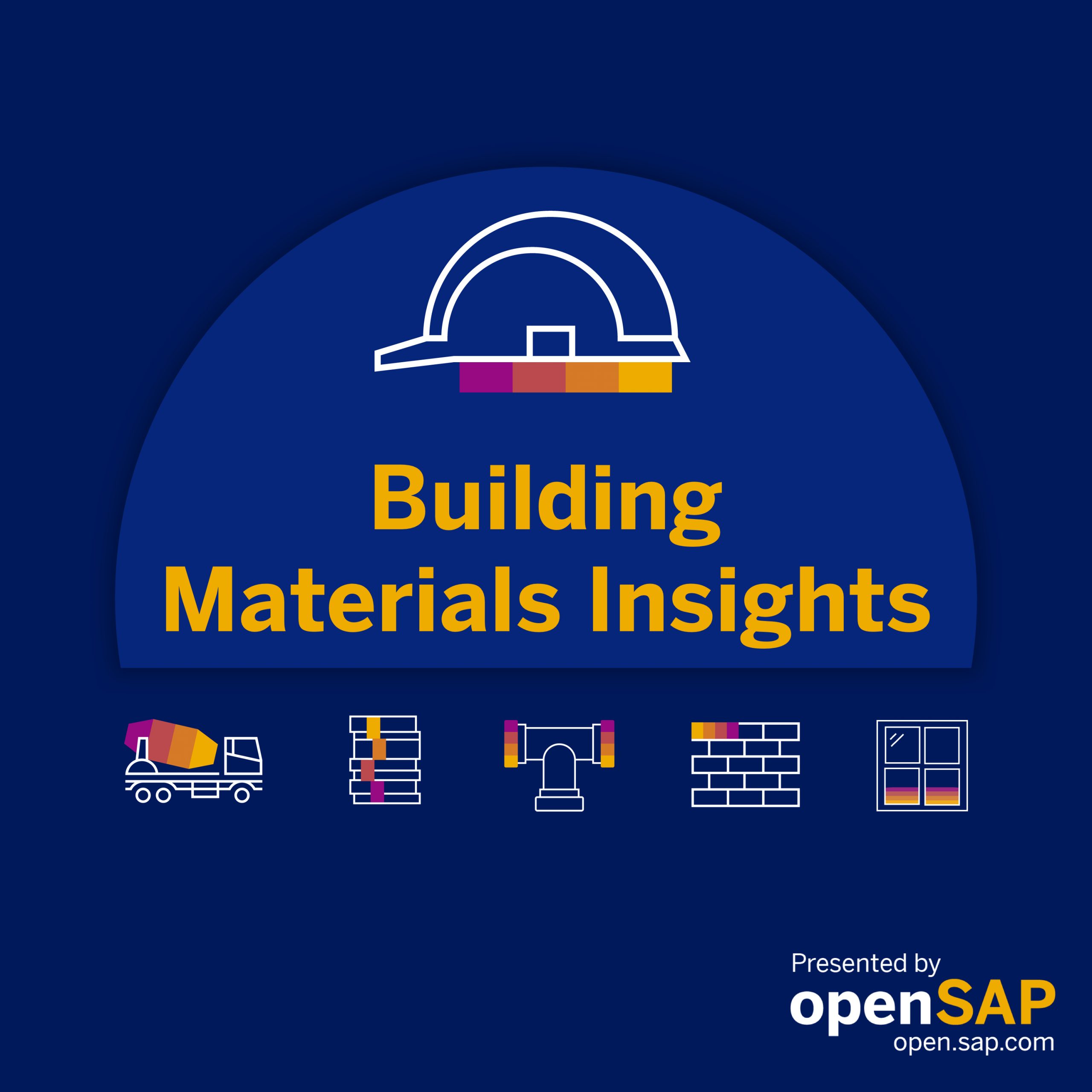 Episode 2: Building Materials Industry & Climate 21
Stefan Weisenberger (Lead of Industry Business Unit Mill Products & Mining) shares his point of view of Climate 21 Initiative and how the cement industry can work on it.
Published: 18. November 2020
Duration: 0:19:17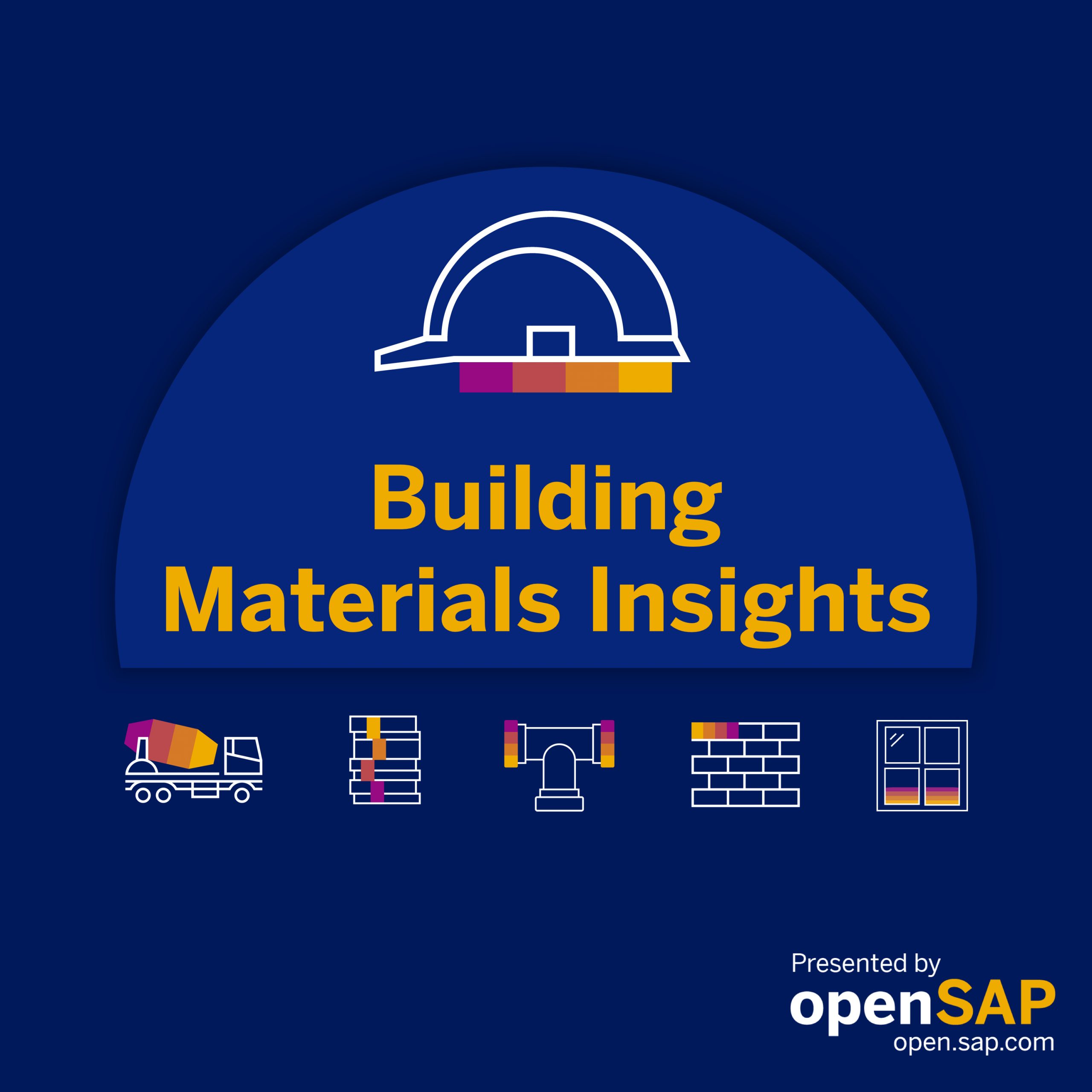 Episode 1: Key initiatives in digitization of Building Material companies
What are Building Materials companies doing to transform business and pave the way to a sustainable future? Tune in to listen to Folkert Haag and Ursula Grün, Global Leads for Building Material Industry @SAP.
Published: 4. November 2020
Duration: 0:22:21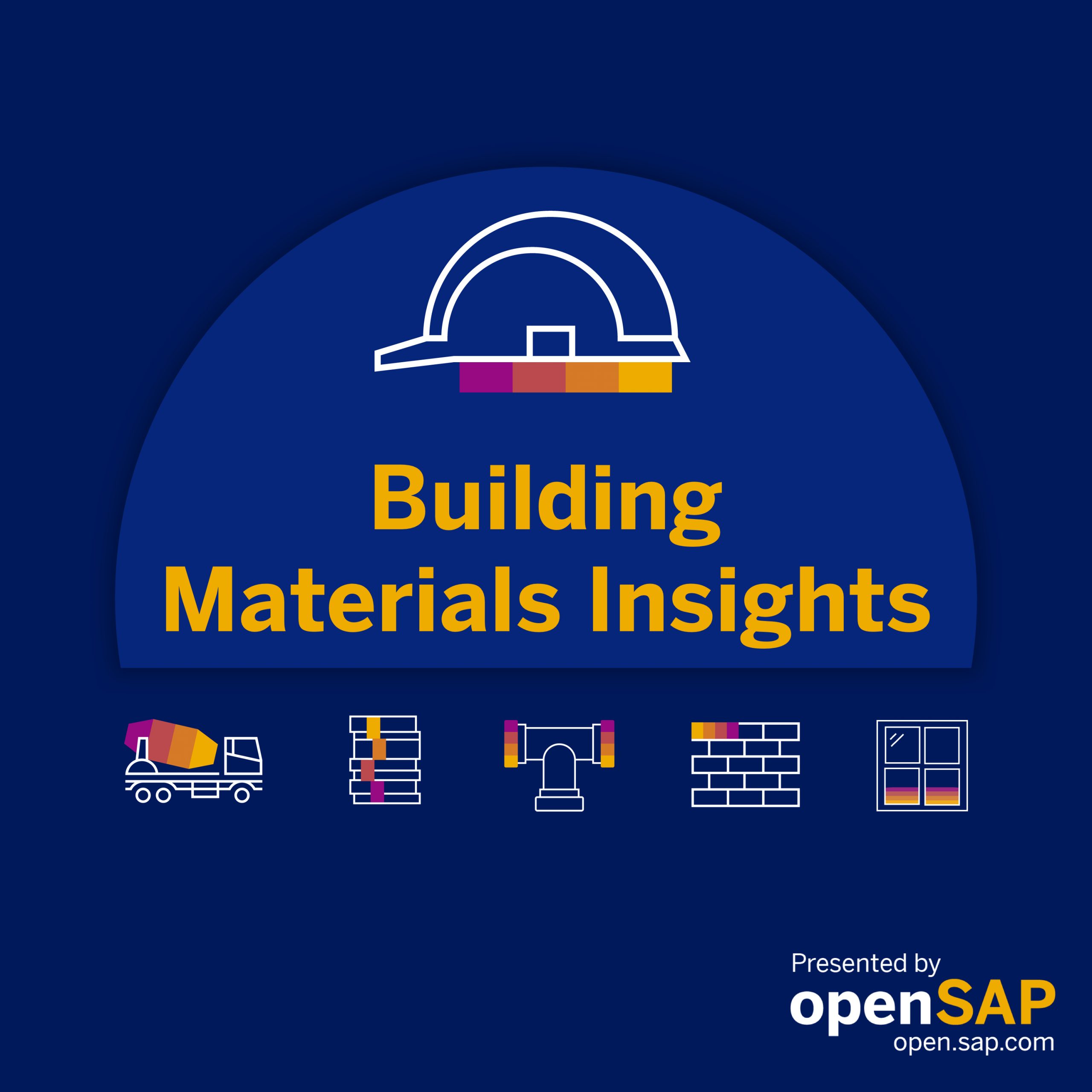 Building Materials Insights: Teaser
A new podcast by SAP - curious what to expect? Follow us and give feedback on Twitter @SAPMillMining.
Published: 27. October 2020
Duration: 0:01:36
Episode 19: The C in CEMEX doesn't only stand for Cement and Concrete - but also for CSR

Mario Gonzalez, Social Impact & Shared Value Advisor at CEMEX, takes us into what CSR means for CEMEX.

Published: 6. October 2021
Duration: 0:33:20

Episode 18: Why Building Materials manufacturers shouldn't wait for BIM to happen (but make it happen themselves)

Thomas Kirmayr, General Manager Fraunhofer Allianz Bau, takes us to a pragmatic approach how to tackle BIM.

Published: 15. September 2021
Duration: 0:26:22

Episode 17: Dormakaba is opening doors (even more smoothly)

​Alexander Bradfisch, Senior Vice President at Dormakaba shares his experience on digitalizing Dormakaba's key product - a door.

Published: 21. July 2021
Duration: 0:25:21

Episode 16: How Volker Thome and Fraunhofer are shaping the future of building materials recycling

Dr. Volker Thome, Head of Department 'Inorganic materials and recycling' at Fraunhofer IBP works on the real recycling of concrete - not just a crushing of demolition waste which rather means 'downcycling'.

Published: 7. July 2021
Duration: 0:26:05

Episode 15: How communication is changing along the supply chain - a chat with Axians

Jens Büschl and Marc Graner (Axians) are sharing their observations on changing communication in the supply chain in Building Materials companies.

Published: 23. June 2021
Duration: 0:28:43

Episode 14: Why Chris can't paint his deck - a view on North American lumber market

In this episode, Christopher Glander, Industry Value Advisor (SAP Americas) takes a look on the North American construction wood market, facing a steep price increase since 2020.

Published: 9. June 2021
Duration: 0:27:45

Episode 13: Why should building materials producers care about digitization?

Jerry Lewis, Executive Partner IBM shares his ideas on the need for digital transformation in building materials industry.

Published: 12. May 2021
Duration: 0:29:50

Episode 12: New Ways and the path to Modular Construction

Cristian Montes and Ronaldo Passeri are sharing insights on how Etex is developing modular construction with New Ways.

Published: 28. April 2021
Duration: 0:28:04

Episode 11: Changing customer behavior and the impact on Egger Holzwerkstoffe

In a discussion with Moritz Steinruck (Head of Product Management Building Products) from Egger Holzwerkstoffe, we are taking a look into the changes in customer behavior and how Egger is responding.

Published: 15. April 2021
Duration: 0:23:51

Episode 10: How Building Materials manufacturers are impacted by trends in the construction industry

Matthias Bohner, Director Construction and Real Estate SAP SE, shares insights into trends of the construction industry that influence the supply chain of construction.

Published: 31. March 2021
Duration: 0:28:02

Episode 9: Software is everywhere - also in Building Materials?

In this discussion with Isabel Reingruber (SAP, Solution Manager for HighTech Industry) we are looking into the opportunities and risks of 'Software is everywhere' (SiE) in the manufacturing industry.

Published: 17. March 2021
Duration: 0:16:05

Episode 8: hansgrohe - the path to digital sanitary ware

Markus Armbruster (Vice President IT & Digital @ hansgrohe) shares his experiences on how to go digital in his company.

Published: 3. March 2021
Duration: 0:27:59

Episode 7: Industry 4.now and the relevance for Building Materials industry

What can Industry 4.now do for the Building Materials industry? Where has it already proven its value?

Published: 17. February 2021
Duration: 0:25:25

Episode 6: A view on the Building Materials Industry in China

Xu Meng (SAP, Industry Value Advisor for China) gives insights into current trends for the chinese building materials market.

Published: 3. February 2021
Duration: 0:22:11

Episode 5: Circular Economy @ LafargeHolcim

Eva Carranza (Circular Economy Lead at LafargeHolcim) describes the efforts taken at LafargeHolcim to implement Circular Economy at LafargeHolcim.

Published: 20. January 2021
Duration: 0:25:15

Episode 4: Building Information Modelling(BIM) and the role for Construction and Building Materials Industry

Johnny Clemmons (Lead of Construction Industry SAP) and Folkert Haag (Co-Lead of Building Materials Industry SAP) talk about the role BIM plays for the industry.

Published: 16. December 2020
Duration: 0:24:44

Episode 3: Building Materials Industry in Mexico - A shift in customer experience & low-touch-economy

Oziel Gonzales, Industry Value Advisor at SAP Mexico shares his insights into trends in the Building Materials.

Published: 2. December 2020
Duration: 0:21:59

Episode 2: Building Materials Industry & Climate 21

Stefan Weisenberger (Lead of Industry Business Unit Mill Products & Mining) shares his point of view of Climate 21 Initiative and how the cement industry can work on it.

Published: 18. November 2020
Duration: 0:19:17

Episode 1: Key initiatives in digitization of Building Material companies

What are Building Materials companies doing to transform business and pave the way to a sustainable future? Tune in to listen to Folkert Haag and Ursula Grün, Global Leads for Building Material Industry @SAP.

Published: 4. November 2020
Duration: 0:22:21

Building Materials Insights: Teaser

A new podcast by SAP - curious what to expect? Follow us and give feedback on Twitter @SAPMillMining.

Published: 27. October 2020
Duration: 0:01:36