INFORMATION
CHAPTERS
TRANSCRIPT
SHARE
FILES
PLAYLIST
Welcome to openSAP Invites. I'm your host Robert Nichols, and I'm excited to welcome two futurists from Tata Consultancy Services (TCS), Frank Diana and Kevin Benedict. Frank and I first worked together on an openSAP thought leaders course called "Reimagining the Future: A Journey Through the Looking Glass". A course that explained that we can no longer predict the future, but instead must rehearse it.
I thought it would be fascinating to bring Frank back, along with Kevin, and have a discussion four years later about the concepts introduced in the openSAP course regarding possible future scenarios for our standard way of living. These possible future scenarios are founded in science and technology – Internet, Social, Mobile, Cloud, Data & Analytics, and are impacted by innovation accelerators such as the Internet of Things, Renewable Energy, 3D printing, Blockchain and more. These in combination with emerging and future accelerators such as climate change, rising energy demand, an aging population, or a changing notion of work, all of have a profound impact on our standard of living – our health, how we learn, how we transport, how we produce and use energy, how we communicate, work and eat.
Frank, Kevin and I discuss, with a particular focus on the impact of the pandemic on future possible scenarios for our standard way of living.
Guest: Frank Diana
Leader, Speaker, Futurist at Tata Consultancy Services
Frank is a recognized futurist, thought leader and frequent keynote speaker. He has served in various executive roles throughout his career and has over 30 years of leadership experience. At TCS, he is a thought leader and advisor in the context of business, societal and economic evolution. He blends a futurist perspective with a pragmatic, actionable approach – leveraging horizon scanning and storytelling to see possible futures. His leadership experience obtained through various executive roles connects practical realities with the need to focus on an emerging future filled with complexity and change.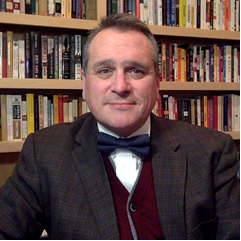 Guest: Kevin Benedict
Partner, Futurist at Tata Consultancy Services
Kevin is an optimistic futurist, and passionate advocate for using technology for social good. He writes and speaks globally on emerging and disruptive technologies, business strategies and marketing trends. He loves building teams, innovating, designing new strategies and winning. He is curious and loves communicating complex concepts and evangelizing best practices. He hosts a variety of online tv channels where he has interviewed hundreds of executives and thought leaders on industry trends and emerging technologies. He loves writing, is a social media expert, SAP Mentor alum, current SAP Influencer program member and global speaker on the deeper strategies of business and technology transformation.
Show Notes:
Additional Downloads
References & Recommendations
Courses

openSAP MOOC: Reimagining the Future: A Journey Through the Looking Glass

openSAP MOOC: The Business Opportunities of a Digitally Transformed Economy
Publications
Frank Diana's Blog

Articles by Kevin Benedict

SAP's Vaccine Collaboration Hub – An Interview with Michael Byczkowski

Social Engineering – Mind Manipulation at Scale

The Missing Ecosystem – Bringing Order to Sustainability Chaos
Social Media
Hosted by Robert Nichols – Senior Knowledge Consultant & Project Manager at SAP